WELKAM
.........................................WELCOME......................................... The Central Malaita Students Association (CMSA) is a multi-dialect and cultural Student Group Consisting of students from Kwara'ae, Langalanga, Kwai and Ngongosila, Malaita Outer Islands, Kwaio and Fataleka. Our vision and objective is to protect the norms and cultural values of our members while at the same time we enhance our academic knowledge and skills towards the promotion of development and the improvement of living standards in our respective regions. .............................................DISCLAIMER............................... The site welcomes any contribution by way of information, comments, news articles, photos etc from its members and interested members of the public to ensure we are well informed of all the developments in our villages, constituencies, regions, islands, country, region and the world at large as well. However, any transmission of information, news and comments is intended only for the use of the members of the Association. Any use or dissemination of information provided in this site in other websites or medium of information is not the responsibility of the Association, and the Association cannot be held liable for it. The contents of this webpage, unless expressly stated, do not comprise the views of the Association or any representation by the Association, but are views of its individual members. .
LOCATION
WHAT'S NEW
Central Malaita Student Association(CMSA) would include Malaita Outter Islands student as of next year.That means if you are from Malaita Outter Islands, you are part of CMSA.
This site is currently undergoing some major changes.
NOTICES
I WILL BE AWAY FOR TWO WEEKS IN THE SOLOMONS. WHILE I AM AWAY, N.G, COULD YOU KEEP OUR SITE UPDATED WITH ALL THE LATEST NEWS FROM HOME. I WILL BE BACK ONLINE IN AUGUST - PM
QUOTE OF THE DAY
"Youth is a blunder; Manhood is a struggle; Old age is a regret - (BENJAMIN DISRAELI (1804 - 1881)"
BENJAMIN DISRAELI (1804-1881)
CHAT BOARD
KU'AL HU'AN ALA'ANGA!!!.
CLIPS OF THE TSUNAMI IN SOLOMON ISLANDS
HISTORICAL CLIPS OF THE SOLOMONS
OTHER SOLOMON ISLANDS CLIPS: MUSIC, SPORTS ETC
POSTERS
Vakavuku, SISA custom dancers administrator

Central Malaita Dancing Group at the Tsunami Appeal at Laucala Campus administrator

AUKI WHARF administrator

REACHING OUT....A young boy from Kilusakwalo reading through a pamphlet about RAMSI's work in Solomon Islands which was distributed during a meeting by a RAMSI Outreach Team to the village yesterday. PICTURE: MOFFAT MAMU administrator

A Malaita Ramo - JanesOceania.com

A house found it self submerged as a result of the Tsunami - Lifhaus.com">

Jacinta Moli from Central Malaita representing Solomon Islands in Powerlifting during the Commonwealth Games

administrator

Tennis Queen Irine George from Central Malaita" ">

Thursday, May 31, 2007
SOGAVARE SHOULD KEEP OUT OF PNG POLITICS - SIR MEKERE
Solomontimes Online News


31 May 2007





A former Prime Minister of Papua New Guinea, Sir Mekere Morauta (pictured on the left), says he was shocked by Mr Sogavare's interference in PNG politics during his brief stopover in Port Moresby.


The former Prime Minister warned the Solomon Islands prime minister, Manasseh Sogavare, to keep out of PNG politics after publicly backing Sir Michael Somare to win in forthcoming elections.




He says he finds it somewhat disturbing that a Prime Minister could publicly declare his preferred counterpart before elections were to be held. Mr Sogavare recently stated in a PNG newspaper that he wants to see Sir Michael return as prime minister following the upcoming elections.




The Opposition has also come out strong against the Prime Minister's recent public statement. Speaking on behalf of the Opposition group Hon. Edward Huniehu describes Prime Minister Sogavare's action as a bad precedent.




"He (Sogavare) is putting the Solomon Islands Government in an awkward situation in the event of a new Executive Government taking over power after the elections" said Huniehu. "




Such public outburst of support for Sir Michael was uncalled for"
posted by administrator @ 4:01 PM

APRIL RIOTS 2006 COMMISSION
SIBConline News
13:45 hrs
31/05/2007

The Commission of Inquiry into the April Riots 2006 is experiencing constraints in holding meetings in the Solomon Mutual Insurance building.



Chairman of the Commission, Brian Brunton revealed this yesterday at the Commission's first public hearing.





He says this is because the air conditioner requires maintenance and spare-parts, recording equipment still needs to be installed and a public address system needs to be installed.Mr Brunton says the Commission looked at two sites for it premises one had no public access on the third floor of a building.





He says the SMI building was available, it had good public access, but it had not been functioning as an office for sometime.Mr Brunton says there did not appear to be alternative buildings available in Honiara for the exclusive use of the Commission of Inquiry over a five month period.





He says the provision of transport has been difficult, and expensive and that communications infrastructure, telephones and e-mail links have been very slow to build-up.





Mr Brunton says the Commission needs research officers, additional lawyers and that investigators have yet to be released by appropriate government instruments.He says for these reasons there will have to be an adjournment of these proceedings.
posted by administrator @ 3:52 PM

RISK OF RISING SEA LEVELS
SIBConline News
13:25 hrs
31/05/2007

Fifteen years after the Earth Summit, the scientific community concedes that global warming and the risk of rising sea levels will probably have major consequences for tens of thousand of inhabitants of Pacific atolls.
Food and Agriculture Organisation, FAO, say meteorological events have provoked untold damage to Pacific
islands.
These include drought in the Marshall Islands, floods devastated Fiji and volcanic eruptions threatened thousands of villagers in Vanuatu.
In Solomon Islands a magnitude-8 earthquake created a tsunami that killed 50 people and caused a further thousand people to lose their homes and livelihoods.
FAO Director-General Dr Diouf (pictured above) says these last months these events have impacted heavily on economic activity in the Pacific.
He was speaking at a regional ministerial meeting opening in Majuro this week.
posted by administrator @ 3:51 PM

COMMITTEE PREPARES FOR INDEPENDENCE ANIVERSARY
Solomontimes Online News
31 May 2007

The Committee, comprised of officers from various government departments, is headed by the Under Secretary of the Department of Home Affairs Solomon Palusi.

The Committee met yesterday to oversee coordinated activities leading towards the actual anniversary on July 7.



The Independence Committee discussed various issues involving financial and logistical arrangements, accommodation, transportation, entertainment and other relevant aspects of the current preparations.





A second meeting is scheduled for this Friday in which a planned visit to meet with the Malaita Provincial Government will be finalized.The National Government has decided to celebrate this year's independence celebration in Auki - a decision that falls in line with the government's bottom-up-approach policy.





The government is also planning to hold future independence celebrations in other provinces.
posted by administrator @ 2:18 PM

DR. KOROVAVALA APPOINTED AS FORUM'S LIASION OFFICER IN SOLOMON ISLANDS
Solomontimes Online News


31 May 2007




A source from within the Forum Secretariat in Suva has confirmed to PACNEWS that Dr Lesi Korovavala (pictured on the right with Former police Commissioner of Fiji Hughes) will soon be appointed as the Forum's representative to the Solomon Islands.


As the Forums Representative Dr. Korovavala's role is to liaise and consult with the Solomon Islands Government on regional matters.




It is the first time the Forum has selected someone from one of its member countries as its representative in the island nation.




Mr Korovavala was a former Chief Executive Officer in the Fiji's Ministry of Home Affairs.




PACNEWS has reported that an office has been set up in the Forum Fisheries Agencies based in Honiara for Dr Korovavala.
posted by administrator @ 2:13 PM

PACIFIC ISLANDS FORUM SECRETARIAT SIGNS MOU WITH PIPSO
Forum Secreatariat


PRESS STATEMENT

31st May 2007




The Pacific Islands Forum Secretariat has signed a Memorandum of Understanding (MOU) with the Pacific Islands Private Sector Organization (PIPSO) concerning support by the Secretariat to the operations of PIPSO.




The MOU was signed by Greg Urwin, Secretary General of the Forum Secretariat and James Movick, Chairman of PIPSO.




"The Secretariat has agreed to provide office space and essential equipment because the Forum recognizes the importance of the development of the private sector to the region and is particular interested in seeing PIPSO open an office that will provide administrative and technical support to its members," Mr Urwin said.




"The Forum Leaders have acknowledged the potential that PIPSO has to help stimulate economic growth, increase employment opportunities and provide an improved environment for all businesses large and small by including the organization as an implementing entity under the Pacific Plan."




On behalf of PIPSO, Chairman Movick said: "As a recently established organization, PIPSO requires a great deal of financial and technical assistance from regional organizations and development partners and we are very grateful to the Forum Secretariat for recognizing the importance of assisting PIPSO to set up a permanent office for the effective execution of its work for the benefit of its members."




"The Forum Secretariat and PIPSO agree to develop and support PIPSO's regional outreach and its network with national private sector organizations and governments throughout the Pacific region," Mr Movick said.




Under the MOU, the Forum Secretariat will host the office of the PIPSO Secretariat in Suva, Fiji, without charge for office rental or related utilities and will purchase office equipment and other appropriate facilities and supplies for the use of PIPSO.




The PIPSO Secretariat currently has two staff. This is expected to increase as it continues to implement its Strategic Business Plan 2007 – 2011.
posted by administrator @ 12:31 PM

CIVIL SOCIETY WANTS INDIGENOUS QUALIFIED PEOPLE FOR TOP JOBS
Radio New Zealand International News
31 May 2007

Civil society groups in Solomon Islands have issued a call demanding the Sogavare Government immediately appoint qualified indigenous officials as Attorney General and Police Commissioner.

The groups, comprised of trade unions, women's groups and Transparency Solomon Islands, say the failure to appoint Solomon Islanders is clearly motivated by the Prime Minister's obsession with Julian Moti - the Australian he wants as Attorney General.

Don Wiseman has more.
"The civil society groups say the government is systematically undoing the country's governance systems and undermining its senior leaders. It says the first victim was former Attorney General Primo Afeau who had to be sacked to make way for Mr Moti. And it says the government is now working to remove the chairman of the Public Service Commission and most likely, the entire membership of PSC, in order to lift the suspension it placed on the appointment of Mr Moti.

The civil society groups say they have reliable information that the PSC has been directed in writing to lift Mr Moti's suspension. They say to appoint foreigners to these posts is a vote of no confidence by the government in Solomon Islanders."



posted by administrator @ 8:16 AM

SOCCER: KOSSA CROWNED CHAMPIONS
Solomontimes Online News
31 May 2007
Honiara

The final of the Our Telekom Club Championship has concluded and KOSSA is now the country's new representative in the 2008 Oceania league.

KOSSA opened the goal scoring galore in the 11th minute of the game. James Naka again gifted KOSSA a brilliant goal.Richard Anisua, of Koloale who is growing more confident in his new role as an attacking midfielder delivered a powerful low shot across the goal mouth to draw level with KOSSA, the score remained 1-1 at half time.

After the break, again both teams traded carefully, it was KOSSA who came back strongly after some changes to their players. Three of the goals scored by KOSSA are arguably some of the most magical goals scored so far. Naka scored the second important goal. It was a beautifully taken volley from a dipping cross from the right flanker. Naka did not hesitate the crowd almost knew when the ball made contact with Naka's feet that the net is going to shake. And shake it did.

KOSSA supporters were screaming all over the stadium, many of them King George School students who turned up in good number to support their team. Koloale supporters were outnumbered. The third goal for KOSSA again was a freak goal. It was from a free kick from the center of the field taken by Gideon Omokirio.

He floated the ball into the goal mouth expecting the players to contest for it, however, the cross was quite high and the keeper may have had problems seeing the ball, as the ball dropped it went straight into the net. Fred Hale had to be replaced.

The fourth was a well taken shot from the right mid who put power behind the shot to put the ball straight past the new keeper. KOSSA seemed to relax and Koloale scored two quick goals to reduce the deficit, however Kossa held on to win the Match.
The game was described by many as nerve wrecking to watch, both teams played superbly and deserve to be praised. The game was played beautifully with class and precision. KOSSA now has the opportunity to represent Solomon Islands next year in the O league.

posted by administrator @ 8:09 AM

Wednesday, May 30, 2007
DEPUTY PRIME MINISTER SAYS HE IS WELL
SIBConline News
12:22 hrs
30/05/2007

Deputy Prime Minister and Minister for Public Service, Toswell Kaua (pictured on the far right), has dismissed reports that he is critically ill.
He told SIBC News yesterday evening that the rumours being spread about him that he is seriously ill is false.
"Well, my condition is alright. I am the Deputy Prime Minister talking so that you can hear that the reports spread about me are no true. My condition has improved and I am now able to walk. Everything is alright, and whoever is spreading the rumours must stop doing it."
Minister Kaua says he is recovering at home and will soon resume duty.
posted by administrator @ 4:56 PM

OPPOSITION MP CRITICISES PM
SIBConline News
12:26 hrs
30/05/2007

Recent outburst by Prime Minister Manasseh Sogavare giving his moral and political support for Sir Michael Somare to be re-elected to Parliament in the coming PNG national elections had been criticised as meddling in the internal affairs of Papua New Guinea.





Sir Michael is the current Prime Minister of Papua New Guinea until a new Government is formed after the next elections.




Parliament member for East Are-Are, Edward Huniehu describes Prime Minister Sogavare's action as setting bad precedent by putting Solomon Islands Government's position in an awkward situation in the event of a new Executive Government taking over power after the elections.




Mr Huniehu says if that happens the Prime Minister's action poses the danger of straining the strong diplomatic relations between the two members of the Melanesian Spearhead countries.




The East Are' Are M-P says the Julian Moti issue will affect the outcome of PNG elections especially the leadership of Sir Michael.Mr Huniehu says such public outburst of support for Sir Michael was uncalled for.
posted by administrator @ 4:52 PM

SIR PETER DESCRIBES LATE SIR LLOYD AS NATIONAL SYMBOL
Govet Media Services


30 may 2007

Honiara




"The life and achievements made by the late Sir Lloyd Maepeza Gina should be a challenge to us Solomon Islanders as we strive for excellence towards nation building," Speaker of Parliament Sir Peter Kenilorea said.
Speaking at the state funeral to farewell the former speaker of parliament in Honiara yesterday, Sir Peter said the late Sir Lloyd was one of the leadership icons the country has ever produced, describing him as a "national icon".
The Late Sir Lloyd was the country's first Speaker of Parliament when Solomon Islands established its first Parliament in the early 1980's.
Sir Peter said Sir Lloyd was a "highly motivated, dedicated, soft spoken, down to earth' person and was one of the few Solomon Islanders who were privileged to hold important offices during the colonial administration.
The late Sir Lloyd started his service with the government with a humble beginning as an office clerk in 1956 and worked his way to be a Chief Administration Officer and ultimately the Speaker of Parliament.
Sir Peter said the late Sir Lloyd's untarnished record of service has earned him three consecutive terms as Speaker of Parliament.
"The success of the late Sir Lloyd was based on his unswerving personal and experiential faith in God," he said. "Sir Lloyd's life should be a challenge to us Solomon Islanders as we strive for excellence in all we do towards nation building".
Sir Lloyd is survived by his wife, seven children and 14 grandchildren.
His body was taken to his home village in the Roviana Lagoon of Western Province for burial.
Hundreds including Prime Minister Manasseh Sogavare, cabinet ministers, diplomatic cops, heads of regional organizations attended the funeral service.
posted by administrator @ 4:49 PM

WE DO NOT NEED THE HELP OF OUR MELANESIAN NEIGHBOURS: SAYS SDL
Solomontimes Online News


30 May 2007




A POLITICAL party in Fiji believes they can solve their own problems and does not need the help of its Melanesian neighbors.


Soqosoqo Duavata ni Lewenivanua Party spokesman Peceli Kinivuwai was reacting to observations by Solomon Islands Prime Minister Manasseh Sogavare. Mr Sogavare had earlier stated that all eyes were on PNG and the result of the elections would be crucial not only for PNG but also for the leadership of Melanesian countries.Mr Sogavare stated in a PNG newspaper that he was hopeful for the return of Papua New Guinea Prime Minister Sir Michael Somare as he would continue to chart the direction for Fiji, the Solomons and Vanuatu in his capacity as chairman of the Melanesian Spearhead Group.




But Mr Kinivuwai of the very popular SDL party of Fiji stated in the Fiji Times that Sir Michael has got enough problems in his own backyard in which he should focus on instead of trying to step into Fiji's affairs.




"We do not need external assistance as we can handle our problems in the Fijian way through dialogue," he said."We are aware of our culture and our prevailing religious groups so we understand our own systems better. To address our system we need people from within Fiji."




Mr Kinivuwai said the military needed to call on members of political parties to help map Fiji's path to democracy as this would comprise people who had a mandate.
posted by administrator @ 4:45 PM

MEDIA: BUILDER OF PACIFIC ECONOMY
Solomontimes Online News


30 May 2007




Tony Hughes in a keynote address to the PINA delegations who were in the country last week, expressed the difficulties faced by the media.




Mr. Hughes said the challenge is 'how to do development better' and how to avoid repeating the mistakes of the past.




"Learning from experiences - our own and that of others - drawing on new techniques and technologies without being swamped by them, being honest with each other, engaging with out regional neighbors and the world at large through trade, investment, foreign aid and international politics."


He then reminded the media representatives of their roles as builders of Pacific economies. "Your role is to provide the information people need to take charge of their own development - to empower the people by informing them".




He told delegates that much of what journalist are doing is excellent, but overall their impact is nowhere near as effective and valuable as it could be.He identified that media contribution towards development, if is to be effective, needs to address the following factors.




"Firstly, Journalists need to understand economic development thoroughly to be able to report it in a usable media format in a simple language" said Hughes. "Media reporting in economic matters is generally too passive, superficial, and heavily dependent on official handouts"
posted by administrator @ 12:42 PM

GROWING INEQUALITY IN THE PACIFIC A GROWING WORRY - HUGHES
Solomontimes Online News


30 may 2007




In his address to PINA delegates, former governor of the Central Bank of Solomon Islands stated that inequality in the Pacific has grown to an extent that it must be reversed.


He said if it is not reversed, inequality and widening awareness of what is causing it will have disastrous consequences for Pacific nations. Persistent unfairness breeds bitterness, and unattended bitterness breeds an urge to destroy.




Unscrupulous political operators know this and can exploit it for their own purposes, as several countries represented here can testify, said Mr. Hughes.He said a contributing factor to this inequality is the way liberal capitalist economy tends to facilitate the concept of accumulation of wealth and economic power in the hands of progressively fewer persons and corporations, both nationally and around the world.




The other he claimed is the sordid reality of widespread corruption in the Solomon Islands."The misuse of public office for private gain- in its main forms is corruption. Together these two elements play a major part in the size and unsustainability of the widening gap between the Pacific's rich and poor." said Hughes
posted by administrator @ 12:38 PM

PM SAYS LATE MP WAS A PROMINENT SON OF SOLOMON ISLANDS
SIBConline News
17:59 hrs
29/05/2007

Prime Minister Manasseh Sogavare has described the late Member of Parliament for Aoke/Langalanga, Batholomew Ulufa'alu as a "prominent son of Solomon Islands"



Mr Sogavare was speaking at a state funeral service for the late Ulufa'alu at the Holy Cross Cathedral in Honiara last Sunday.





Prime Minister Sogavare said the late MP would go down in Solomon Islands history as a binding force during one of the most trying times.He said the late leader made the supreme decision in sacrificing fame and fortune to relinquish the post of Prime Minister in 2000 in the interest of peace, stability and national unity.





The Prime Minister said the late Ulufa'alu was the main brain behind the Grand Coalition for Change Government's Bottom-up Approach development policy.He said the late MP's charisma and vision for sovereignty, rural development, good governance and transparency and economic reforms were outstanding and he would be missed by all.





The late Ulufa'alu died last Friday at the age of 56 after fighting a long battle against diabetes.His body was laid to rest at his home village of Laulasi in Malaita's Langalanga Lagoon yesterday.
posted by administrator @ 12:36 PM

TRIBUNAL TO INVESTIGATE CHAIRMAN OF COMMISSION
SIBConline News
18:07 hrs
29/05/2007

Minister of Finance ,Gordon Darcy Lilo, says Government had established a tribunal to investigate the conduct by the Chairman of the Police and Prison Services Commission, Edmond Andresen.



Mr Lilo who until last Sunday was the Acting Prime Minister says the Government took the action in light of Mr Andresen's conduct especially in challenging the appointment of the new Commissioner of Police, Mohammed Jahir Khan.Mr Lilo says since the appointment of Mr Khan as the new commissioner of Police was consistent with provisions of the Constitution, the challenge by the Chairman of the Police and Prison Service Commission was uncalled for.





He says questioning the procedures and process of appointment and the administration of the appointments by the Governor General as required by the Constitution is an act of

insubordination.
posted by administrator @ 12:02 PM

GOVERNMENT ACKNOWLEDGES EU SUPPORT IN EDUCATION
Govt Media Services


By George Siapu




The Solomon Islands government expressed profound gratitude to the European Union last week for its continuous support towards the country's education sector.




The EU had funded a fully equipped modern building for the Church of Melanesia's Saint Nicholas Secondary School which was officially handed over to school authorities and students on Friday.




Permanent Secretary of the Ministry of Education Mr. Barnabas Anga has expressed profound gratitude to the European Union for their continuous commitment and dedication in the Solomon Islands education sector.




He said the commitment and dedication by EU is evident in the completed classrooms and library building that is now ready for use by teachers and students.
Mr. Anga also highlighted the fact that because of the commitment and dedication of parents, guardians and friends of St. Nicholas School through their valuable labor, much has been achieved including the new building.




"I wish to commend all of you for the spirit of cooperation and partnership that enabled us to witness this timely handover of these properties to the School Management and Board of St. Nicholas Community High School," Mr Anga added.




He pointed out that his Ministry advocates the principles of financial management and budgeting and it was this training amongst others, which has enabled the management of St. Nicholas, to better plan for effective use of its financial resources, which had culminated in the construction of the first phase of this classroom.




"The second phase was completed with support from the National Secondary School Infrastructure Programme of my Ministry, which is supervised by Pro Solutions," Mr. Anga explained.




"I wish to put on record our sincerest appreciation for the fine efforts and advice from the management of Pro Solutions to Schools that are beneficiaries or potential beneficiaries of our National Secondary School Project," Mr Anga added.


The EU funded two-storey classroom building will accommodate form seven classes and a fine library.


School Principal Mrs Christina Vunagi funding provided by the EU through the Ministry of Education under the Education Investment Reform Program (EIRP) has benefited her school since 2005.


According to Mrs. Vunagi, the school had received the first installment of $122,000.00 in 2005.


"This money initially was for the classroom building now occupied by the form six classes and the computer lab, however, when the money was made available the classroom had already been completed using the school's own funds" Mrs Vunagi explained.


She added that after reprioritizing the school's projects, the school board decided on a library since the school has already reached Form 7 level and this was when they utilized the EU money.

Saint Nicholas School had a long track record of endurance and Endeavour in as far as their commitment to the overall advancement of the school's learning environment is concerned and this was the spirit that had enabled them to make contributions in terms of labor costs, furnishing and other finishing touches, which value up to more than $180,000-00.
posted by administrator @ 9:53 AM

LATE ULUFA'ALU LAID TO REST AT HIS HOME ISLAND IN MALAITA
Govt Media Services


By Brian Wanga

In Auki




Former Prime Minister and Member of Parliament for Aoke Langalanga constituency, the late Bartholomew Ulufa'alu was finally laid to rest at his home island in the Langalanga lagoon, Malaita Province Monday.


Mr Ulufa'alu died at age 56 on Friday after a long battle with diabetes.
The government has accorded the greater leader a state funeral on Sunday before his body was taken for burial at his island home of Gwaula Walo in his native Langalanga lagoon.


The body of the late Prime minister arrived before midnight Sunday evening to a waiting crowd of mourners.


Minister of Police and Justice Isaac Inoke who represented the government said the Solomon Islands Government will miss the service of the late Ulufa'alu who has contributed a lot to the Progress of Solomon Islands in his lifetime.


He has led Solomon Islands through very difficult and hard times," he said. "We cannot match him, and I am much honored to bring him back to you from where he started and now ended.


A tributary gift of Shell Money and Ten Thousand dollars was given by the Solomon Islands Government to the Chiefs and relatives on arrival.


Prime Minister Manasseh Sogavare also said the late MP would go down in Solomon Islands history as a binding force during one of the most trying times.


He said the late leader made the supreme decision in sacrificing fame and fortune to relinquish the post of Prime Minister in 2000 in the interest of peace, stability and national unity when militants demanded his resignation as Prime Minister.


"I can without any reservation whatsoever say that it is this unselfish action by a person who cared about the continual existence of this country that paved a very important path in the country's peace process.


"He is truly the man of peace."


The Prime Minister said the late Ulufa'alu was the main brain behind the Grand Coalition for Change Government's Bottom-up Approach development policy.


He said the late MP's charisma and vision for sovereignty, rural development, good governance and transparency and economic reforms were outstanding and he would be missed by all.
posted by administrator @ 9:49 AM

COMMENT: DEATH, A PROFOUND MYSTERY
Pacific Magazine,


30 May 2007

Comment by Dr. John Roughan

Honiara




Three of our Big Men--Joses Sanga, Bart Ulufa'alu and now, Lloyd Mapeza Gina--all have left us over the past month. Their passing away brings home to each of us, in no uncertain way, that the road they traveled will be ours as well. Some in the near future. For others, the passage of years must flow under the bridge called time but there's no doubt we too will travel the very same road. All are destined to die!

Some call death absurd! But absurd means that which has no meaning and cannot have meaning. Our God can and did not create an absurd world. For most of us, however, death is a mystery . . . something that has more meaning than we have understanding.

Pain and suffering are close relatives to their ugly 'Big Brother', death. But make no mistake about it, these three--pain, suffering and death--are firmly of the same family. All three lie at the heart of the mystery of life. To fully explain one of them would be to make all three clear at the same moment. But since Adam and Eve walked this earth no one, including Christ himself, fully explained death and its two sisters, pain and suffering. They lie, however, at the heart of why a loving God created this kind of world and made all three parts of the normal pattern of living.

On 2 April Solomon Islands was forced to learn the very same painful lesson. The Western and Choiseul provinces' tsunami wiped away in a flash the lives of more than 50 of our people--the very old, the very young and those in the prime of life. Our Prime Minister publicly questioned the meaning of such an event. Why had the tsunami happened? Why did it hit us? He found no easy answers!

Some attempt to link the bottomless mystery of suffering and death with there being no God. How can a merciful and all loving God allow such suffering . . . the tiny, innocent infant thrown into a fire by a drunken rebel soldier, the mass gas attack by the dictator Sadan, Hiroshima, etc? Few of us think this way, however. Others link suffering, pain and especially death to God's punishment . These and similar questions Christ never answers. Instead of answering, Christ acts. Do we want answers to the death, pain and suffering mystery, then we find it at the foot of the Cross!

The Lord works and watches over his creation, which he loves, perhaps not with human love but with, in Dante's words "the love that moves the sun, the other starts."

Death's mystery was so close to us at the Bart Ulufa'alu's burial service at Holy Cross Cathedral on Sunday last. The country's elite--political, business, church leaders--confronted the ultimate in there lives. Death looked us all in the eye and boasted that everyone in that church would travel that same road some time soon. For death, ten days, ten months or ten years are all the same.

The essential factor that Jesus introduces into the death mystery, however, is the absolute faith in the omnipotence of love. Jesus is a free man, the only truly free man, the only man who has loved and believed with sufficient daring both to free himself from fear, from money, from habit, from the law, and from death, and to free others from the same things. During his life the sick were freed of their infirmities, the greedy were liberated from their love for money, the lustful from needs of the flesh, sinners regained their innocence and even the dead were restored to life--Jairus' daughter, Lazarus, Jesus himself.

The reality of death over the past month has struck the nation like a lightning bolt. We are not only rational creatures but believing ones as well. Death leaves us gasping for understanding, for insight. God owes us nothing yet we are his children! These are the two ends of a rope which we hold in our hands but lies tangled up at our feet. Both ends are real even if we can't explain how they are both part of the same rope.
posted by administrator @ 9:33 AM

ADB ASSIST IN EMMERGENCY PROJECT
Solomontimes Online News


30 May 2007




The Solomon Islands Government, with the assistance of the Asian Development Bank, have agreed on an Emergency Assistance Project for the rehabilitation of damaged infrastructure.




The project will specifically target badly affected areas in West and Choiseul. The proposed project, which will be co-financed by the European Union, will be implemented from 2007 to 2009.




It will finance rehabilitation of damaged infrastructure, including about 35 kilometres of roads, 29 bridges, about four wharves, one jetty, and the Gizo town water supply and sanitation system.




ADB has committed to assisting the Government by providing technical support in overall coordination, and drafting the Recovery Action Plan, in cooperation with other development partners.Robert Guild, Senior Transport Specialist from ADB's Pacific Department said that one of the main goals of the Emergency Assistance Project is to restore economic and social activities in the affected areas to pre-tsunami level.
posted by administrator @ 9:03 AM

CALL FOR EQUAL TREATMENT OF PEOPLE WITH HIV
Leave and Learn Environmental Education


MEDIA RELEASE
29.05.07

Honiara

Speaking at the closing of a HIV and Human Rights workshop in Honiara on Friday, Live and Learn Environmental Education's Program Manager, Jacob Zikuli, highlighted the need for equal treatment of people living with HIV and AIDS.


"There are many social issues that the government, non government organizations and communities in Solomon Islands need to address and HIV is one of these. It is important for people living with HIV and AIDS to be treated equally and respectfully," Zikuli said.

He further went on to say that Live and Learn sees the environment as an overarching theme from which all other social factors flow, including the well being of the person, whether or not that person is living with HIV and AIDS.

In thanking the organizers and facilitators of the workshop, workshop participant, Nancy Kwalea, said the workshop was "like a banquet and we have thoroughly enjoyed the sessions."

Other participants said the workshop helped them to reconsider their views of people living with HIV. Another participant said the training has added another dimension to their work and they will use their newly acquired skills and knowledge to better address HIV related issues in their workplace and communities.

The workshop ran from 21 – 25 May and attended by 18 participants from non government and government sectors. It was organized by Live and Learn Environmental Education and facilitated by the Regional Rights Resource Team from Fiji.
posted by administrator @ 8:53 AM

Tuesday, May 29, 2007
GOVERNOR OF CENTRAL BANK AND ECONOMY
SIBConline News
12:49 hrs
29/05/2007

Governor of Central Bank Rick Hou says ordinary Solomon Islanders should assess whether or not their government has served them through improved economic activities and social services.
Speaking last week in a luncheon the Bank hosted for the Pacific Islands News Association delegates, Mr Hou said it's not how much members of Parliament or candidates give during election period and thereafter or how much its paying its political advisors.
He said improved economic development include more job opportunities, greater improvement in the transport and telecommunications sector, and better social services include better roads, health centres and education facilities.
Mr Hou said ordinary people should use these improvements as a yardstick to assess whether any elected government has done its part in development Solomon Islands."The success of any political government should be assessed by the improvements they bring to our economic and general wellbeing.
Not how much the prime minister has given during his election campaign or how much the government is paying advisers".
posted by administrator @ 2:02 PM

URWIN ON PACIFIC PLAN
Solomontimes Online News


28 May 2007




Secretary General of the Pacific Islands Forum Greg Urwin says the initiatives under the Pacific plan are now being implemented.




Mr Urwin stated that the priority areas of the Pacific Plan are now under the management of the Pacific Plan Action Committee, chaired by the Forum Chair - currently Papua New Guinea. The committee is comprised of senior officials of all Forum member countries.




Mr Urwin says the Plan brings together the region's current development priorities under four overarching objectives of economic growth, sustainable development, good governance and security.




He says the plan calls for strengthened regional cooperation and integration, recognizing that as the change brought about by globalisation intensifies, so should our ability to make our regional cooperation more relevant and effective.




Mr Urwin says that because regional organizations are also playing an active role in the implementation of the Plan, the Forum had committed to strengthening the cooperative abilities by developing a regional institutional framework that is appropriate for these new approaches to regionalism.
posted by administrator @ 11:36 AM

SOCCER: KOSSA UPSETS MARIST TO FACE KOLOALE IN THE FINALS
Solomontimes Online News


28 May 2007




The scoreboard reads 3-1 in favor of KOSSA, what the scoreboard could not register was the drama involved in the win.




Willie Lai is ecstatic with the win, but Marist fans are calling foul. Within 10 minutes of the first half, Iniga was given the marching orders for a foul play on Takahama. The decision fueled the Marist bench who saw the red card as unnecessary claiming it was a fair challenge.




With a man-down Marist shifted to high gear and scored in a matter of minutes to the surprise of KOSSA. Benjamin Mela buried a free kick outside of the eighteen yard to the jubilation of Marist supporters. The celebration was short lived when in less then three minutes KOSSA's Luwi scored a cheeky goal, tipping the ball over Marist keeper Jr Samani.




The score line remained 1 all till full time. KOSSA scored in extra time courtesy of a brilliant shot by Wahero. Gibson Hosea of Marist equalized in the last 15 minutes of extra time, only to see the goal canceled by the referee Mathew Taro. Taro cited an infringement inside the six yard box and canceled the goal.




Marist threatened to leave the pitch saying the referee was biased and intentionally 'handing the game' to KOSSA. The game resumed and KOSSA put the game beyond reach through the ever skillful James Naka.




The game ended 3-1 in favor of KOSSA but Marist fans, officials and players will only remember the game as a classic 'daylight robbery'. KOSSA will now play Kolale in the finals tomorrow.




Kolale were convincing winners over the Northern Warriors of Central Province, winning 7-1.
posted by administrator @ 11:33 AM

RAMSI LAUNCHES NEW FILM: CHANGING LIVES
RAMSI media release


Submitted by Qila Tuhanuku

Tue, 29/05/2007 - 9:25am.




Changing Lives, a new video depicting the lives of eight people from the pacific region working with the Regional Assistance Mission to Solomon Islands, was launched this week at a lunch for the Pacific Islands News Association hosted by RAMSI.




The mission's Assistant Special Coordinator, Masi Lomaloma, said the film tells the story of people from the Pacific working with their Solomon Islands counterparts to rebuild the country.




"Changing Lives explores what the 'R' in RAMSI really means and at the same time asks Solomon Islanders: "How has your life changed since RAMSI came?".




"The film presents a 'snap shot' of eight people working with RAMSI: on the beat as advisors to the Solomon Islands Police Force, out talking with the community, on patrol in villagers, or working with their Solomon Islands Government counterparts", Mr Lomaloma explained.


Mr Lomaloma said the initial objective of the film was to capture the experience of different people from different countries working in the Solomon Islands with RAMSI - to find out what they are doing and what they have learnt from the experience of living and working in the Solomon Islands.


"The film helps to explain to people in Solomon Islands, but also in the Pacific region, what RAMSI is, what it does and the impact of the work of their citizens in three key areas in the Solomon Islands: law and justice, economic governance and machinery of government", he said.


"What we have discovered in the process of making the film is that the experience of living and working in the Solomon Islands is changing the lives of both RAMSI personnel and the people they are working with", he said.


"Building partnerships has always been a key focus of RAMSI in working together with Solomon Islanders. This film shows at a very personnel level how that is happening everyday on the streets, in government offices and in the provinces", he said.


Mr Lomaloma said the film will be used for regional visits by RAMSI principals.
"It is important for people in the region to know and understand the contribution people from their countries are making to rebuild the Solomon Islands as well as building enduring relationships across the region", he said.
posted by administrator @ 10:46 AM

RAMSI OFFERS CONDOLENCES TO THE NATION
RAMSI Press release
Submitted by Qila Tuhanuku
Tue, 29/05/2007 - 9:25am.

RAMSI's acting Special Coordinator, Jonathan Austin has offered the Regional Assistance Mission's condolences to the nation on the passing of the statesman and former prime minister, Hon Bartholomew Ulufa'alu.

In a statement released yesterday, Dr Austin said he was speaking on behalf of all members of the Regional Assistance Mission to Solomon Islands.

"It is with deep felt sympathy that we extend our condolences to the government and people of Solomon Islands, the people of Aoke-Langalanga constituency. The widow and the family of the late Hon Bartholomew Ulufa'alu at this time of great loss and national mourning.

Dr Austin said during the earliest phase of RAMSI. many in the mission had worked with the late Honourable Ulufa'alu.

"We all recognise that the late Honourable Ulufa'alu served his country with dedication and distinction through good times and bad.

"His contribution over so many years as a trade union leader, as a minister but especially as prime minister has helped shape the nation of Solomon Islands,"Dr Austin said.

"On behalf of all members of the Regional Assistance Mission, we assure you our thoughts and prayers are with you at this time."

May his soul Rest in Peace.

posted by administrator @ 10:44 AM

STATE FUNERAL FOR LATE SIR LLOYD
SIBConline News
19:38 hrs
28/05/2007

The official state funeral of the late Sir Lloyd Maepeza Gina will be held tomorrow.



The office of the Prime Minister says the body of the late Sir Lloyd will lay in State from 9am until half past two in the afternoon.





The body will then be taken to Wesley United Church for the funeral service at 3pm.Members of the public are advised that there will be traffic delays in Honiara tomorrow due to the state funeral of Sir Lloyd.





Traffic users of Mbokonavera road and east and bound traffic on Mendana avenue will be disrupted between 3 and 5pm. Relatives have confirmed that the body will later be transported to his home village Munda, in the Western Province for burial.
posted by administrator @ 8:49 AM

UNIVERSITY OF PAPUA NEW GUINEA HONIARA CENTRE
SIBConline News
19:33 hrs
28/05/2007

The University of Papua New Guinea, UPNG, will from July this year, run a UPNG Open College – University Centre in Honiara.

Vice-Chancellor Professor Ross Hynes has announced over the weekend that UPNG centre would provide initially certificate in tertiary and community studies courses.

He said from 2008, the centre would provide diploma and degree courses.

Professor Hynes said UPNG would do its best to assist Solomon Islands in tertiary education.

Mr Sogavare who was in Port Moresby over the weekend also encouraged Solomon Islands students at UPNG and Pacific Adventist University to be good ambassadors while in PNG, and must provide the leadership needed in their country after graduation.

Professor Hynes hosted a lunch for Mr Sogavare last Saturday at the Waigani campus Drill Hall.

After a two week official visit to Taiwan, Mr Sogavare spent Saturday in Port Moresby during which he attended a church service at the Sogavare Memorial SDA church at Gerehu with his wife Emmy.

He reunited with his family and the Solomon Islands community including Solomon Islands students at UPNG Waigani and Taurama campuses, and the Pacific Adventist University.

Mr Sogavare and his delegation returned to Honiara yesterday.
posted by administrator @ 8:45 AM

Monday, May 28, 2007
KOLOALE BEATS MARIST TO ENTER THE FINAL
Solomontimes Online News
28 May 2007

Koloale survived its final pool game on Saturday against Marist winning 2-1 and finishing on top of Pool A.

The game was pulsating from the blow of the whistle. The Lawson Tama crowd watched with excitement as the two giants of the DJ League displayed classy football. Marist dominated the opening minutes and was unlucky not to have gone ahead with 3 goals.

They had clear chances but could not convert them into goals.Although Marist scored first Koloale showed composure and scored the equalizer few minutes before the break. After the break both teams sensing the urgency went on overdrive to the obvious delight of the crowd watching the match.

Chances were created at will for Marist with the likes of Abraham Iniga and Jack Samani beating their opponents with their one - two combination. However, luck was not on their side that afternoon. Koloale finished the game with a beautiful play of their own in the 70th minute to break the heart of Marist players and fans as they tried desperately to equalize.

Koloale went out winners 2-1.

The finals of the National Club Championship are currently underway at the Lawson Tama stadium.

posted by administrator @ 4:36 PM

TSUNAMI AFFECTED COMMUNITIES URGED TO COOPERATE
Solomontimes Online News


28 May 2007




Some villages in the Western and Choiseul Provinces are waiting for the government to assist them rebuild their homes. Some are reportedly refusing to assist in cleaning up their villages.




National Disaster Management Office media officer Julian Maka'a says NGO groups have reported that these communities are reportedly waiting on government to rebuild the houses for them."These villagers need to know that we have to help each other in order to make things move faster, they all have to take up the responsibility and assist" Mr Maka'a said.




Mr Maka'a said that relief food supplies for those affected areas have stopped last month and a team from the Asian Development Bank are doing their own assessment on the damages. "In fact our team has already done our own assessment and we provided the figures" Maka'a said.




"Donors saw those figures but they wanted to see for themselves so they went down to the site" The National Disaster Management Office is continuing to coordinate the funds provided for the Tsunami victims in the Western and Choiseul provinces. Reports reaching the NDMO through SWIM said that a number of houses were being built with local materials assisted by members of SWIM team.




The NDMO is recommending the initiative by SWIM and people are asked to do the same thing to ensure things get back to normal as soon as possible.
posted by administrator @ 4:34 PM

PACIFIC MEDIA ADOPTS HONIARA ACTION PLAN
Pacific Magazine News


28 May 2007

Honiara




A first-ever blueprint for developing Pacific Islands economic and business journalism has been adopted by regional news executives and journalists meeting in the Solomon Islands.




The Honiara Action Plan was drawn up through British Government support during the 2007 Pacific Islands News Association (PINA) convention.




The successful biennial convention was organised and hosted by Media Association of Solomon Islands (MASI) and held in the Solomon Islands capital, Honiara.
The Honiara Action Plan emphasises the importance of economic and business journalism for development in the region. It sets out a series of practical steps to strengthen this, and highlights existing examples of best practice.




The Action Plan says that in too many news organisations across the Pacific Islands economic and business journalism continues to play a secondary role to political reportage.




The Action Plan says: "Vigorous, professional and independent economic and business journalism is crucial to the countries and territories the Pacific Islands news media serve. This is because it involves issues affecting the everyday lives and futures of all Pacific Islands people."




It adds that the economic and business challenges facing the nations of the region are many.




It says they include:
* Unprecedented moves towards regional and international economic integration and free trade.
* Fighting poverty.
* Overcoming corruption and inefficient governance.
* Promotion of private sector development.
* Resolving conflict over resource ownership and land rights.
* Resolving issues of resource development and sustainability.
* Climate change and its impact on land, agriculture and food supply.
* Reducing the growing gap between the haves and the have nots.
* Investment.
* Job creation and the constantly ticking timebomb of the unemployed young."




MASI's theme for the biennial PINA convention was The Role of the Media in Developing Pacific Economies. It focused the attention of the region's news media on this for the first time.




This was promoted in a series of convention sessions, as well as through the British Government-supported working group and pre-convention workshop attended by regional and Solomon islands journalists.




The Honiara Action Plan:
*Commends those news organisations in the region already focusing on developing economic and business journalism. It urges others to consider how they can better serve their communities by doing this. It especially notes the efforts of The National newspaper in Papua New Guinea and the regional news magazine Islands Business, of Fiji, and Pacific Magazine, Honolulu, as examples of what can be achieved.
* Urges all the region's journalism education and training schools to include economic and business journalism as important parts of their programmes. It commends the willingness of Divine Word University in Madang, Papua New Guinea, to develop this. It welcomes the efforts of the University of the South Pacific in Suva, Fiji, to promote research on media and reporting on the economy.
* Thanks the British Government, through the Foreign and Commonwealth Office and its High Commission in Honiara, for its support for the development of economic and business journalism. It suggests that as a followup activity consideration be given to funding development and publication of a handbook on Pacific Islands economic and business journalism to be used in newsrooms and journalism schools.
* Urges the incoming leadership of PINA to make expanding economic and business journalism training and development a priority. This should include training and development for all media, radio, television, print and new media.
* Congratulates the Pacific Islands Forum Secretariat for its well established Forum Economic Ministers Meeting (FEMM) regional workshop and coverage teams. It commends the Forum Secretariat for its constant support of the FEMM programmes.
It welcomes Forum Secretariat efforts to expand this to include the Forum Trade Ministers Meetings. It requests the Forum Secretariat to additionally seek further funding support to expand this to all Forum regional meetings on business and economic issues. It urges the Forum Secretariat to ensure these opportunities are equally available to journalists of all Forum Island Countries.
* Urges the European Union to promote better public understanding of its Economic Partnership Agreement (EPA) negotiations and implementation with Pacific members of the African, Caribbean, Pacific (ACP) group. It requests the EU offices in Port Moresby, Honiara, Port Vila and Suva to work with the Pacific Islands Forum Secretariat in Suva to establish regional workshop/reporting teams on these along the same lines as the Forum Secretariat's successful FEMM programmes.
* Welcomes the initiatives announced by the Asian Development Bank (ADB) in Honiara. These include introducing Pacific Islands economic and business journalism training and additionally developing an easy-to-use electronic glossary of economic and business terms for Pacific Islands journalists. Use and mastery of these terms will help build economic understanding.
* Welcomes the willingness of the Forum Fisheries Agency, based in Honiara, to readily provide specialist help to economic and business journalists reporting on this key resource sector. It commends the moves by the Forum Fisheries Agency to expand its information officer role to include working directly with the news media.
* Commends the Central Bank of Solomon Islands (CBSI), through Governor Rick Hou and Deputy Governor Denton Rarawa, for their willingness to provide regular briefings on economic performance. It recommends these clear, easy-to-understand and up-to-date briefings as an example of best practice for other central banks in the Pacific Islands.
* Congratulates the Media Association of Solomon Islands (MASI) for its outstanding efforts in promoting the role of the media in Pacific Islands economic growth. It recommends the MASI and Papua New Guinea Media Council secretariats jointly act as focal points for developing these economic and business journalism initiatives until a functional PINA Secretariat is reestablished by the incoming PINA executive.




The working group comprised:
Peter Lomas, editor-in-chief of the Pitt Media Group (Cook Islands Television, Radio Cook Islands, Cook Islands Herald, Cook Islands Times,




Johnson Honimae, Pacific Islands Forum Secretariat media officer and previously general manager of the Solomon Islands Broadcasting Corporation, president of PINA, and a longtime Solomon Islands and regional radio and print media journalist.




Justin Kili, MBE, executive officer and trainer for the Papua New Guinea Media Council and a longtime broadcaster with PNG FM and the National Broadcasting Corporation of Papua New Guinea.




Patrick Lino, general manager and chief editor of the Broadcasting Corporation of Niue (Television Niue and Radio Sunshine).




Kevin Pamba, journalism lecturer at Divine Word University, Madang, Papua New Guinea, newspaper columnist, and former business editor of The National, Port Moresby, Papua New Guinea.
posted by administrator @ 1:06 PM

SOLOMONSTAR CELEBRATES BI-CENTENNIEL ANNIVERSARY
Solomontimes Online News


28 May 2007




Solomon Star, a daily newspaper in the Solomon Islands, celebrated its 25th anniversary last Friday May 25th.




The publisher and director of Solomon Star Company, John Lamani, stated that while the paper can now look forward to a brighter future, it did not come without its fair share of challenges.




Mr Lamani stated that there are times when grueling conditions, not conducive to making business, arise. He cited the ethnic error as one of the most difficult times.




Guest of Honour at the celebration Governor General Sir Nathaniel Waena praised Solomon Star Company and its hardworking staff for what he described as an excellent job in providing a medium of communication in sharing information to the public of Solomon Islands.




He says it is only when the country is well informed that its leaders and people are in a position to make better decisions.




The Solomon Star Newspaper is one of the few Newspapers within the Pacific region that is locally owned and managed.
posted by administrator @ 11:33 AM

PAP TO DECIDE ON ALLEGIENCE ON FRIDAY
Solomontimes Online News
28 Mayb 2007

The Peoples Alliance Party will meet on Friday to decide on whether or not they should remain with the Opposition.



PAP Parliamentary Wing Leader, Clement Kengava, stated that PAP will decide on whether to remain with an AIM led Opposition or officially endorse the withdrawal he made on behalf of PAP Parliamentarians and PAP to become an independent political group in the National Parliament.





"I have made full consultations with three PAP Parliamentary colleagues in the Opposition and we all agreed that PAP should withdraw from the Alliance of Independent Members partnership" Kengava said





"PAP policies cannot be realized under an AIM led Government" Kengava went on to say that he found it disappointing that two members of PAP, namely Sir Allan Kemakeza and Hon Milner Tozaka still decided to remain with Association of Independent Members (AIM) led Opposition, despite the decision they made in April to withdraw from the Parliamentary Opposition.





"The political back peddling made by Sir Allan Kemakeza and Hon. Milner Tozaka to remain in the Opposition proves my concern of the lack of commitment by politicians towards their political parties" said Kengava.
posted by administrator @ 10:26 AM

TONGAN NEWSPAPERMAN GETS MEDIA FREEDOM AWARD
Pacific Magazine News


27 May 2007

Honiara




Tongan pro-democracy newspaper editor Tavake Fusimalohi (pictured on the left with Solomon Star John Lamani) has been announced as winner of the 2007 Pacific Media Freedom Award.– he is fighting to bring the people of Tonga freedom of information and expression and he is not giving into pressure.




Fusimalohi was honored during the Pacific Islands News Association (PINA) convention in Honiara says a Media Association of Solomon Islands (MASI) statement.




In announcing the award, MASI president John Lamani said, "Tavake stands for everything that this award symbolises .




"He is making sure the people know what is really happening despite all the efforts by the government to try to silence him. He faces going to jail for this."




Fusimalohi, the editor of the newspaper Kele'a, has been charged with sedition and criminal defamation by the royal Tongan regime ruling under emergency powers.
He is amongst three Tongan pro-democracy journalists and media executives facing sedition charges, and jail terms. It comes amidst a crackdown on the media since the deadly riot on 16 November last year after delays in reforms in the kingdom.




Tavake was unable to attend the PINA convention as he is not currently allowed to leave Tonga.




Fusimalohi is one of the Pacific's most experienced media executives. He is a founder and former executive director of PINA and was a longtime general manager of the Tonga Broadcasting Commission.




After retiring from the Government-owned broadcaster he went into independent newspapering, as editor of Kele'a.
posted by administrator @ 10:18 AM

SOLOMON ISLANDS LOSES ANOTHER STATESMAN WITHIN DAYS AFTER THE LOSS OF AOKE/LANGALANGA MP
SIBConline news


17 May 2007




Solomon Islands will hold another state funeral later this week to honour one of its statesman, Sir Lloyd Maepeza Gina who passed away last night in Honiara.




The planned state funeral follows another in respect of the late Bart Ulufa'alu today.The death of Sir Lloyd occurred almost at the time Solomon Islands was mourning the passing of another of its statesman, the late Bartholomew Ulufa'alu whose body was transported to Auki this evening for burial.




Referring to the late Sir Lloyd,Minister of Finance, Gordon Darcy Lilo says Solomon Islands has again lost a great hero. He describes the late Sir Lloyd as a man of great insight, inspiration,courage and personality.Mr Lilo says the late Sir Lloyd was a man of strong charisma and vision for sovereignty. He was a strong advocator of effective parliamentary democracy and a united Solomon Islands.




The late Sir Lloyd had been former District Commissioner and a founding member of the National Constitution. He was later elected the first country's Speaker of Parliament, a position he had held on three consecutive terms.Government had appointed an interim committee to organise formalities for the late Sir Lloyd's state funeral. Sir Lloyd is from the Western Province.




Meanwhile, Governor General Sir Nathaniel Waena and family had sent their condolence to the family members of the late Sir Lloyd Maepeza Gina. Sir Nathaniel Waena described the late Sir Lloyd as a prominent leader and a founding father of the newly independent state of Solomon Islands.The late Sir Lloyd was the first parliamentary speaker of the newly independent Solomon islands for three terms from 1976 to 1988.




During his time as Speaker of Parliament, late Sir Lloyd had presided over parliament with distinction and excellence and had served in various statutory organisation boards.
posted by administrator @ 10:11 AM

CHINATOWN RE-DEVELOPMENT PLAN APPROVED
Solomontimes Online News


27 May 2007




The rebuilding of Chinatown will soon commence after the Minister of Lands, Reverend Leslie Boseto had approved the re-development plan.




Honiara City Clerk, Mr. Joseph Huta revealed that the council is keen on seeing the re-development of Chinatown. "The destruction of Chinatown has resulted in the council losing about 51 percent in revenue.




The loss is a substantial one." Huta said.Huta told stated that the plan is now with the town and country planning board to decide on the implementation date of the re-development.




"The Town Council Physical Planning Board is on its own, in terms of decision making and the council cannot influence them," said the City Clerk.




But according to the Chief Physical Planner and Secretary to the Town and Country Planning Board, Mrs. Arlene Lingo, the plan to re-develop Chinatown is already in place and it is open to the former business people to start re-building their shops.




"The plan has already been finalized and the planning board is advising all the business owners to structure their buildings according to the requirements within the plan that the board gave out," stressed Mrs Lingo.




She also stressed that so far they have only approved one businessman to start rebuilding his shop. "The planning board approved the businessman's plan because he complied with the guidelines provided by the Town and Country Planning Board," explained the Chief Physical Planner.




"The planning board really wants the re-building of shops in Chinatown to be standardized as it will make the place look nice," said Mrs Arlene.
posted by administrator @ 10:05 AM

Saturday, May 26, 2007
SOLOMON ISLANDS LOSES A STATE MAN
SIBConline News
18:42 hrs
25/05/2007



Solomon Islands has lost one of its states man.He is the late, Bartholomew Ulufa'alu.The late Ulufa'alu died at 12:30 pm this afternoon at the National Referral Hospital in Honiara.'





He was under intensive medical care for sometime, suffering from diabetes.Announcing the death this afternoon through the national radio, SIBC, Acting Prime Minister, Gordon Darcy Lilo says the country had lost one of its great leaders and true son of Solomon islands.





The late Ulufa'alu was member of parliament for Auki Langa Langa constituency at the time of his death.





The late Ulufa'alu had been Prime Minister of Solomon islands from 1997 to 2000.Since taking up politics in the late seventies, Mr Ulufa'alu had held several senior Ministerial posts in Government including the post of Finance Minister in various Government Administrations.





Mr Darcy says the late Ulufa'alu had established his good reputation as a household name.He says the late Ulufa'alu had been a legacy in the establishment of trade unions in the country, formation of strong opposition in parliament and providing an active parliament.





Mr Lilo describes the late Ulufa'alu as having established a reputation among his parliamentarian colleague who hold a strong view that a parliament without Bart is no parliament.
posted by administrator @ 5:03 PM

OPPOSITION ON LOSS OF MP
SIBConline News
18:40 hrs
25/05/2007

Leader of Opposition Fred Fono has described as a big loss the passing away of the late Bartholomew Ulufa'alu, MP for Aoke-Langalanga.



Mr Fono says the late Ulufa'alu will be remembered as the finance minister who endeavoured to push various economic reforms.





He says he was a member of Parliament who strongly push for a united Solomon Islands.Mr Fono says his slogan, "Unity in Diversity" is being used as a phrase in describing Solomon islands effort to have a united country.





He says Mr Ulufa'alu was a leader who was open for criticisms and open to suggestions during his time as a government minister and Prime Minister.





Mr Fono says the late Ulufa'alu will be long remembered as a person who pushed for changes in the country's laws to suit local conditions.





Mr Fono says aspiring leaders should learn from the attributes of the late Ulufa'alu as a cool headed person even during very trying times.
posted by administrator @ 5:01 PM

MISSING TUITION FEES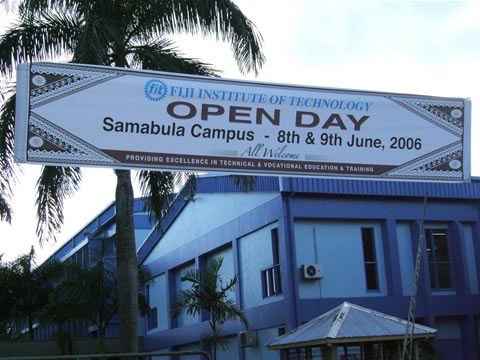 SIBConline News
18:34 hrs
25/05/2007

The Fiji Institute of Technology is missing 30-thousand Fijian dollars in tuition fees paid for their Solomon Islands students.





Fiji Times reports that the money was paid to FIT by Solomon Islands students in December last year has not been received by the institute's accounts department.




A Solomon Islands student claimed he had paid the money to a staff of the Institute's International Students Office and said that the staff insisted the receipt would be forwarded to the Solomon Islands Government.




The staff alleged to have received the payment has since left for the United States.FIT came to know about the missing money when the accounts department requested the International Students Office to remind the Solomon Island's Government of the thirty-thousand in outstanding fees.




The matter is now before the Fiji police.
posted by administrator @ 5:00 PM

Thursday, May 24, 2007
MP FOR AOKE/LANGALANGA DIES
Solomontimes Online News


25 May 2007




Former Prime Minister, Bartholomew Ulufa'alu has died. The MP for Auki Langalanga passed away mid morning yesterday.




The Solomon Islands Government stated that Mr Ulufa'alu died after a long battle with diabetes. Mr Ulufa'alu was the Prime Minister of the Solomon Islands from 27 August 1997 to 30 June 2000."Solomon Islands today lost a great hero and a visionary," acting Prime Minister Gordon Darcy Lilo said.




"The late Ulufa'alu was a man of great insight, inspiration, courage and personality".On May 5, 2006, Mr Ulufa'alu became finance minister of the Solomon Islands, and held that position until October 2006.




Early in June 2006 Mr Ulufa'alu was reported to be critically ill and had not been in his office for several weeks. After receiving medical treatment overseas Mr Ulufa'alu appeared to have made good recovery and was back in his role as finance minister.




Mr Ulufa'alu had been in politics since being appointed as a legislator in 1976. Mr Ulufa'alu founded the Solomon Islands General Workers Union and was leader at the time of independence in 1978.




He later founded the Solomon Islands Liberal Party and was the Parliamentary Leader after successfully winning the election last year.
posted by administrator @ 3:56 PM

COM PLANS OWN UNIVERSITY
Solomonstarnews.com
by Moffat Mamu
24 May, 2007 - 12:32pm.

THE Church of Melanesia (COM) is stepping up actions to set up its own university in the country soon.



COM's Secretary General George Kiriau revealed this yesterday following the appointment of a Project Manager and more recently the meeting of a task force committee.





He said the task force committee comprising of government, private sector and church representatives met for the first time a weekend ago to look at ways to drive the project forward.





Newly appointed project manager Mr Philip Kapini confirmed that the project is a huge undertaking by the church that needs the concerted effort of everyone in its planning and implementation.





"While details are still being worked on, it is envisaged the university would cater for programs in theology as well as education with possibility of healthy later on."These programs it is hoped would be attractive to encourage even private students to enroll," Mr Kiriau said.





Mr Kapini stated at the task force meeting that the Church has received assurances and has been encouraged by government to proceed with the establishment of the institution.





"In order to realise these plan not least of all the Church's undertaking are relevant and complementary to government efforts and other education undertaking, the Church will continue to consult and seek the active involvement of government and other organisations," he said.





Mr Kapini stated he intends to hold further discussions with the permanent secretary for higher education and training.Mr Kapini also stated that the next phase of preliminary work is to look at developing a visual concept of the institution at the location envisaged for the institution.





It is envisaged the institution would be located on 200 hectares of land that the Church has secured behind black post area on north Guadalcanal and landowners have given their backing for the project.





The plan to set up the university follows the need to relocate the Bishop Patteson Theological College on west Guadalcanal.The college is currently running university benchmark programs in theology as part of training for its clergy.
posted by administrator @ 3:10 PM

HIGH HOUSING RENTALS POSE FINANCIAL DISASTER
SIBConline News
12:54 hrs
24/05/2007

Skyrocketing housing rentals in the city and provincial capitals may pose a potential financial disaster in the long term.

This is the warning of Central Bank's Deputy Governor Denton Rarawa while addressing journalists and participants at the Pre-PINA Economic and Business Reporting workshop held in Honiara on Tuesday.

He said high housing rates charged by landlords has indirectly barred locals from affording the high fees while expatriates such as those employed by the Regional Assistance Mission can easily afford the rates.Describing the trend as the 'RAMSI effect'

Mr Rarawa said the lucrative housing and accommodation industry has also resulted in increase money lending given by the commercial banks to developing real estate.He said the danger would be eminent when RAMSI finally withdraw from the Solomon Islands, whereby the 'housing bubble' will explode to create a vacuum that may result in many real estate owners losing money and tenants, and not being able to repay their loans.

He said the Solomon Islands economy is one of the fastest growing in the Asia Pacific region.But Mr Rarawa says steep housing rates does not reflect the real market value of the housing market, thus creating an artificial economy driven by external factors such as aid money, international oil prices and high transport costs.

He said high housing rentals has also contributed to the high inflation in the country, currently at 6.2 per cent.
posted by administrator @ 3:05 PM

ANZ LEAD THE WAY WITH SOLAR PANEL BANKS
Solomontimes Online News


24 May 2007




The Acting Prime Minister Gordon Darcy Lilo revealed to PINA delegates that ANZ has won the tender to provide rural banking to the main provincial centers in the country.




Lilo announced that ANZ in collaboration with the Government will run ATMs on direct current (DC) from batteries powered by a solar panel.




"I must congratulate ANZ, and we look forward to working in partnership with them to deliver services to our rural population" said Lilo.




"The initial plan is to provide at least six solar powered banks to some of the main provincial centers"




Lilo stated that at least three new mobile services will also be made available sometime soon as part of the rural banking plan.




Lilo highlighted that the partnership will help to address the issue of distance when it comes to banking. Lilo stated that the government will support the rural initiative for at least three years. One of the delegates from PNG stated that people in remote areas of this country will finally have something to cheer about.




"For, even without power, they may soon be able to utilize the services of automated teller machines (ATMs) for their monetary transactions" the delegate said. "For this I must say Solomon Islands is a pioneer in the region"
posted by administrator @ 2:59 PM

NO ROYAL VISIT TO MALAITA
SIBConline News
19:54 hrs
23/05/2007

Government House has brushed aside speculations about the visit of members of the British Royal Family to Malaita Province.



Government House has issued the statement to inform the people of Solomon Islands and in particularly, the leaders and people of Malaita Province following speculations by certain people.





The Government House says it has not received any advice from Buckingham Palace in London about any state visit that any member of the Royal Family, would make to Solomon Islands, nor to Malaita Province or any other provinces in 2007.




It says people should ignore such speculations
posted by administrator @ 11:10 AM

LOGGING EXCEEDS SUSTAINABLE LEVEL
Solomontimes Online


24 May 2007




The International Monetary Fund has issued a warned that the current rates of logging in Solomon Islands is expected to exceed sustainable levels this year.




IMF mission Chief Laura Papi says logging is occurring at extremely unsustainable levels in the Solomon Islands. "The sustainable rate was calculated recently by the forestry division of the Solomon Islands government and has been estimated at 250,000 cubic meters a year," Ms Papi said.




"Last year's logging was 1 million which that is four times the sustainable rates"An IMF team has finished an assessment of the Solomons' economy, and has warned that the country relies too much on logging and says it needs to broaden its economic base.




The team went on to say that the high dependence on logging has put the economy of the Solomon Islands in a very vulnerable position.




"The issue of vulnerability needs to be addressed urgently" the team said. "This year's logging is likely to go even higher, which essentially means higher dependence."
posted by administrator @ 11:05 AM

Wednesday, May 23, 2007
OTI APPOINTED AS ALTERNATE SPOKESPERSON
Govt Media Services
23 May 2007

The Solomon Islands Minister for Foreign Affairs, External Trade and Immigration, Patterson Oti, has been appointed as the pacific region's alternate lead spokesperson for the Economic Partnership Agreement (EPA) negotiation with the European Union (EU).

Oti took over the post from Samoan Associate Minister for Commerce, Industry, Labor and Trade Hon Hans Joachim Keil, who is now endorsed as the Lead Spokesperson, a post previously held by the Fiji ex-Minister of Foreign Affairs and External Trade, Kaliopate Tavola.

The appointment took place in the joint meeting of the Pacific ACP (PACP) Trade Ministers, National Authorizing Officer (NAO), and Regional Authorizing Officer (RAO) was held in Nadi, Fiji last week, to deliberate on a number of issues on and the progress of the current EPA negotiation with the EU.

The outcomes of this meeting will give direction on how the region will progress in the EPA negotiations, including in the ACP and Joint ACP-EC Ministerial Council that Oti is attending now in Brussels.

The meeting noted the looming deadline to conclude the EPA and agreed to intensify the negotiations in good faith for the remaining months before the end of year.
The review of the Regional Negotiating Machinery was to allow for a more flexible and active direct participation of all the PACP states in the negotiations.

On the issue of market access, the meeting highlighted also the need for an improve Rules of Origin (RoO) on trade in goods in order for PACP to meaningfully benefit from the EPA.

Other trade barriers such as sanitary and phytosanitary (SPS) and Technical Barriers to Trade (TBT) measures also need to be addressed.

The importance of trade in services for PACP states, especially on the temporary labor mobility was reiterated during the meeting.

A decision was also reached to expedite the progress on extending Pacific Island Countries Trade Agreement (PICTA) to also cover services.

The meeting reaffirmed the PACP Leaders decision in October 2006 on EPA adjustment costs and development needs to request for a legally binding, separate and additional resources without resorting to the EDF.

The meeting also highlighted the need for an EPA Adjustment Facility to be established and to ensure that both regional and national requirements are addressed.

Other regional trade issues were also discussed including the updates on the Doha Round, the arrangement for the office of the permanent representation of the Pacific Islands Forum to the WTO, the pacific trade with other third countries among others.

posted by administrator @ 8:13 PM

IMMUNITIES MEAN RAMSI CAN GET THE JOB DONE: SPECIAL COORDINATOR
RAMSI media Release
Submitted by Jeremy Miller
Wednesday 23 May 2007



The immunities granted to RAMSI do not give personnel the authority to break the law, RAMSI Special Coordinator, Tim George (pictured on the right with former Coordinator Bately) told regional journalists today.




Speaking at a lunch for participants of the Pacific Islands News Association, Mr George defended RAMSI's immunities saying they were not intended to benefit individuals. But were only there to ensure that members of the mission could do the work they came to Solomon Islands to do.




"Immunities are a normal part of the arrangements for many donor organisations operating in Solomon Islands, Mr George said.




"Many international donor organisations here to help the Solomons such as UNDP have been granted immunities to enable them to do their job," Mr George said.




"The purpose of immunities is to ensure the effective performance of the functions of RAMSI."




If immunities were not in place, RAMSI's activities could be undermined and delayed.




Mr George said that the threat of legal claims could be used to intimidate or influence RAMSI personnel.




"Immunities are therefore important in ensuring RAMSI personnel can undertake their work efficiently and effectively, in an independent and objective manner and that the mission's time and resources are not easily diverted from the task it has come to do."




Family members or dependants of RAMSI personnel do not enjoy any immunity under the act. "The immunities and privileges provisions for RAMSI personnel in Solomon Islands are in line with the provisions of immunity regularly enjoyed in Solomon Islands by donor organisations such as UNDP and other multinational agencies, Mr George said. Most importantly, it needs to be remembered that the immunity provisions are subject to the Solomon Islands Constitution, Mr George said.




"The Facilitation of International Assistance Act does not provide immunity in respect of any actions that might infringe the constitution."




RAMSI also puts a lot of effort and energy into making sure members of the mission respect Solomon Islands culture, institutions, laws, personnel and protocols he said.
All RAMSI personnel are subject to rigorous codes of conduct and Commanders Orders.




"Because of all this scrutiny, RAMSI personnel are held to a significantly higher level of conduct than would be the case back in their home countries," Mr George said.
posted by administrator @ 7:55 PM

WHATS A WEBSITE, ASKED A JUDGE AT A INTERNET TRIAL
MSNbc News


22 May 2007




A judge in an "internet terrorism" trial admitted yesterday that he had no idea what a website was.




Mr Justice Openshaw (pictured on the right) told stunned prosecutors at Woolwich Crown Court in south London: "The trouble is I don't understand the language. I don't really understand what a website is." He paid close attention as Prof Tony Sams, a computer expert, explained in detail how the internet works.




The judge said, "The trouble is I don't understand the language. I don't really understand what a Web site is," he told a London court during the trial of three men charged under anti-terrorism laws.




Prosecutor Mark Ellison briefly set aside his questioning to explain the terms "Web site" and "forum." An exchange followed in which the 59-year-old judge acknowledged: "I haven't quite grasped the concepts.




Concluding Wednesday's session and looking ahead to testimony Thursday by a computer expert, the judge told Ellison: "Will you ask him to keep it simple, we've got to start from basics."




The defendants, Younis Tsouli, 23, Waseem Mughal, 24, and Tariq al-Daour, 21, allegedly helped distribute Islamic propaganda over the internet in support of al-Qa'eda.Tsouli, who surfed the web using the name Irhabi007 - meaning Terrorist 007 - is said to have links with al-Qa'eda in Iraq.
posted by administrator @ 4:24 PM

NAVIGATIONAL LINKS
SCHOLARSHIP SITES AND EMPLOYMENT OPPORTUNITIES
INTERNATIONAL NEWS
LOCAL AND REGIONAL NEWS
OTHER SOLOMON LINKS
SPORTS LINKS
TOK STORI - ALA'ANGA DISCUSSION FORUM
PHOTOS
Regional Bodies
Research Papers and Articles
CENTRAL MALAITA STUDENTS
1. ABA, Alan
2. ADIFAKA, Margaret
3. AFIA, Kabini
4. ANII, Dennis
5. ANII, Loretta
6. ATOA, Betty
7. BARE, Gavin
8. BATALOFO, Margaret
9. BIBIASI, Joseph
10. BISAFO, Samson
11. BUGA, Benjamin
12. BUKA, Glen
13. BUNABO, Steven
14. ENOCH, Derick
15. ETUA, Dennis
16. FARADATOLO, David
17. FUGUI, Dudley
18. GALASAU, Noel
19. GERENIU, Collin
20. GULIOA, George
21. IKA, Silas Phillip
22. HUNUEHU, Helen
23. IDU, Francis
24. KAO, George
25. KETEI, Allan
26. KINIOU, Aaron
27. KWALU, Jerry
28. KWATOO, Tony
29. LUITOLO, Steven
30. MAEKWARE,Tom
31. MANATE'E, Wesley
32. MANUSALO, Nelly
33. MISIBINI, ALick
34. MISIBINI, William
35. MISITE'E, John
36. OTTO, Steven Jude
37. RAU, Ishmael
38. SALEMANU, Martin
39. SIARANI, ANDY
40. SUABULU, Gray
41. TEGEROBO, Moses
42. TOITO'ONA, Joan
43. TORILOFA, Frank
44. UGULU, Primo
45. VAJAH, Jimmy

USP STAFFS AND FRIENDS
1. MAE, Paul
2. BUTAFA, Emanuel
CURRENCY CONVERTOR
ARCHIVES
Archives
GREATEST HITS FROM SOLOMONS ISLANDS (1960s-1980s)